Electrical Rewire in Coraopolis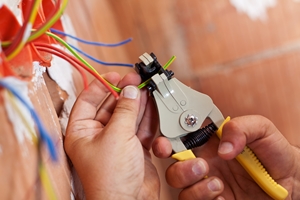 Wiring is the most important part of your home's electrical system, and it's extremely complex and difficult to work with if you aren't trained and experienced. When you need to have any work performed on your home's wiring, you need to hire a professional electrician who you can trust for quality electrical rewiring in Coraopolis.
Every component of your home's electrical system depends on wiring, from outlets and light switches to every device and appliance that you use on a regular basis, so it's important that your wiring is able to support the electricity you and your family use. At Parme Electric, our professional Coraopolis electricians understand how important wiring is to your home and your daily life, so we strive to help our clients keep the wiring in their homes in excellent condition. If your home needs to be rewired, in full or in part, we'll be able to complete the job thoroughly, safely, and accurately.
If your home needs to be rewired, contact our expert electricians, and we'll be looking forward to assisting you.
Our Electrical Wiring Experts
All of our Coraopolis electricians are licensed professionals with extensive training and experience, so we can always guarantee that our wiring services will be thorough and accurate. We'll be able to ensure that your wiring is totally up-to-code and is always safe to use. This is important for your safety, your electrical system, and your home's resale value.
According to the National Fire Protection Association, faulty electrical wiring is a leading cause of house fires in the US, so it's very important that you only hire a qualified professional for this kind of work. Our experts have the experience that you need, and we'll do whatever it takes to keep your wiring in great shape. You can always count on us for top-quality electrical services in Coraopolis and the surrounding areas.
Rewiring Services
If you live in an older home whose wiring hasn't been replaced in years, it's very possible that you need to have at least part of your home's electrical system rewired. Even homes that were built as recently as the 1980s may have electrical wiring that is not up to today's standards. Homes use more electricity than they ever have before—we have more devices and appliances that we regularly use than ever before—so the electrical needs of most homes have grown very quickly over the last ten to fifteen years.
Our professionals can provide you with an electrical inspection to let you know should any part of your home needs to be repaired, and we can handle every part of the job.
---
Recent House Rewiring Articles If You're Planning an Electrical Project or Need Help with an Electrical Problem, Please Fill Out our Contact Form or Call Us at 412-329-8853. With Fully Stocked Vans, We're Able to Repair Most Electrical Issue On-Site with the Proper Materials.