Landscape Lighting in Coraopolis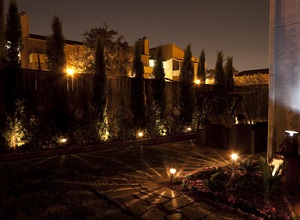 One of your biggest responsibilities as a homeowner is keeping your home's exterior as attractive as possible. After all of the hard work you put into keeping your home's landscape and exterior, there's no reason that it should only be visible during daylight hours. At Parme Electric we offer repair and installation services for outdoor and landscape lighting in Coraopolis to help our clients keep their yards visible at night, as well as attractive.
Our outdoor and landscape designs are comprised of strategically placed lighting fixtures that enhance the most attractive parts of your landscape and your home. These lighting fixtures can highlight architectural elements of your home, plants, trees, or walkways. When you rely on the professional Coraopolis electricians at Parme Electric, we'll work with you directly to custom design your landscape lighting scheme and ensure that it's functional, attractive, and efficient.
Our Outdoor/Landscape Lighting Services Include:
Deck and Patio Lighting
Driveway Lighting
Landscape Lighting Maintenance
Lighting for Walkways and Steps
Front Door and Entryway Lighting
Landscape Lighting Fixtures, Designs, and Installations
Landscape Lighting Design
Our Coraopolis electricians can help you design a landscape lighting system that is perfect for your home, and we'll make sure that you get everything you need from the services we provide. We may be landscape lighting experts, but we know that you're the only expert there is when it comes to your home, so we'll work with you directly throughout the design process to make sure that the new installation is perfect for your home. We'll offer you our professional advice and opinions, but we'll leave all of the final decisions up to you.
Our professionals will always do whatever it takes to ensure that you're completely satisfied with our electrical services in Coraopolis.
Balancing Aesthetics and Functionality
When our professionals install a landscape lighting scheme for your Coraopolis home, we understand that there are two parts to a successful job: we need to be able to select the proper equipment and ensure the complete functionality of the system, and we need to design an artful set-up for the lighting fixtures. We recognize that both of these parts of the job are equally important, so we strive to create a perfect balance between the two.
Our professional electricians will help you choose the perfect lighting fixtures for your landscape lighting design, then we'll permanently install them and ensure that they're properly connected to a power source that you'll control from inside your home. We'll also ensure that your landscape lighting design is as attractive as possible. Whether you're adding lighting for a walkway to your yard or looking for a subtle wash of light over a garden, we'll be able to help you transform your landscape and create a beautiful atmosphere for your home's exterior.
---
Recent Landscape Lighting Articles If You're Planning an Electrical Project or Need Help with an Electrical Problem, Please Fill Out our Contact Form or Call Us at 412-329-8853. With Fully Stocked Vans, We're Able to Repair Most Electrical Issue On-Site with the Proper Materials.