Moon Township Electrician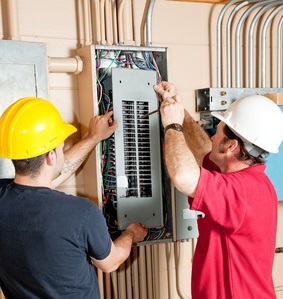 Your home's electrical system is an extremely important part of the everyday lives of you and your family, so one of your biggest priorities is keeping it in great condition. At Parme Electric, our professional Moon Township electricians offer electrical services to help you keep that system as functional, efficient, and safe as possible. Whether you need simple repairs and maintenance or your home needs to be rewired, you can rely on us for high-quality workmanship.
All of our electricians are licensed professionals with extensive training and experience, so we can always guarantee excellent work and customer service at every job that we perform. We'll do whatever it takes to keep your home's electrical system functioning as well as possible, and we'll always guarantee your complete satisfaction with our work. Our expert electricians are always ready and eager to help you keep your electrical system in excellent shape.
Give us a call today to schedule your appointment for electrical services, or to ask any questions you have about the services we provide, and we'll be looking forward to assisting you.
Electrical Repairs in Moon Township
Electrical problems of any kind will make your home less functional and less comfortable, so you need to have them repaired as soon as possible. Our Moon Township electricians will always be ready to provide you with electrical repairs as soon as possible, and we'll be able to guarantee that they're as thorough and accurate as possible. We'll always find the root source of the problems, and we'll make sure that they're thoroughly eradicated.
It's very important that you hire a professional for any kind of electrical repairs. Even the smallest mistakes can end up causing serious personal injury or damage to your property, and faulty electrical wiring is one of the leading causes of house fires in the U.S. Our expert electricians will be able to provide the most thorough repairs possible, and we'll ensure that every part of your electrical system is as safe as possible.
Outdoor and Landscape Lighting Services in Moon Township
Landscape lighting is a great way to improve your property's safety, security, accessibility, and aesthetics. Our Moon Township electricians can work with you to create a landscape lighting design that is perfect for your property and your goals for the project. We can professionally install your landscape lighting fixtures so that they're efficient, functional, and artfully arranged.
Reviews & Testimonials on Parme Electric in Moon Township, PA
Besides the excellent work they have done now three times for us in our home, Parme Electric is down to earth and friendly. Prices are fair not absurd. They explain everything they do and why they are doing it. Couldn't ask for a better electrician. Would highly recommend!
We had recently put our house up for sale and was soon purchased, an inspection was performed and we had a small list of items that needed corrected before the closing. Some of the items were electrical, mainly GFCIs in the kitchen (qty 4) and (qty 3) outside. We did a search and found Parme Electric who is very close to our house, Zack called back right away and was able to review the job. He was prompt and even offered us an inspection of our circuit breaker which only needed a little tightening and provided us a photo to provide as backup to the soon to be homeowners. Zack's pricing was excellent and his work clean and done very competently. Not only is Zack professional but he is also very friendly and easy to talk to. Thanks Zack!
We had an issue with replacing an over the range microwave which the home builder mysteriously had hard wired behind a cabinet. Saw the reviews on Parme Electric's web site and gave Zack a call. He returned the call the next morning, even though he was on vacation in Mexico! He came over to the house and completed the job quickly, professionally and at a reasonable price. Not only will we use his services again if needed but will recommend Parme to others.
I really liked working with Parme electric. Zack, who is the owner, was very knowledgeable and assessed our issues and fixed them quickly. I really appreciated the up front pricing, which is all on his I pad and I felt was very reasonable. He also explained what was wrong and made us feel very comfortable. I will surely use him for any electrical issues in the future. If You're Planning an Electrical Project or Need Help with an Electrical Problem, Please Fill Out our Contact Form or Call Us at 412-329-8853. With Fully Stocked Vans, We're Able to Repair Most Electrical Issue On-Site with the Proper Materials.