Electrical Service Panel Upgrades in Coraopolis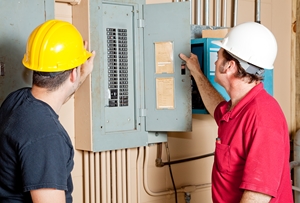 Your home's electrical panel is the core of your entire electrical system and your link to the outside electrical grid. If it's unable to support the amount of electricity your modern home is using, you could see power outages and maybe even be creating a dangerous situation in your home. The Coraopolis electricians at Parme Electric can help you determine whether your panel needs to be upgraded, then we can take care of the job. We specialize in electrical service panel upgrades in Coraopolis and the surrounding areas.
Your main electrical panel is typically a large grey box, most likely located in your garage or basement, filled with witches. Those switches are your breakers, and when they "trip," you'll experience an electrical outage until you switch them back on. If your breakers are tripping consistently or repeatedly, then you probably need to have your panel inspected. Give our team a call to schedule the appropriate electrical services in Coraopolis or nearby.
How to Know When Your Panel Needs an Upgrade
You have a "screw-in" style fuse panel.
These types of panels are very common in older homes. They were perfectly fine when they were introduced, but because of the amount of electricity that today's homes generally use, they are no longer considered adequate, and they will need to be upgraded.
Your breakers constantly trip.
Even if you don't have a screw-in style panel, if your breakers are constantly tripping, your lights are flickering, or you're only able to use one or two major appliances at a time, you most likely need a panel upgrade.
Remember: old, outdated panels aren't just an inconvenience. Aside from causing electrical outages, they can also lead to damaging smoke or to a house fire. Give us a call today, and our Coraopolis electricians can help you decide if a panel upgrade is necessary.
Our Professional Panel Upgrade Technicians
When you need any electrical repairs for your home, it's important to always hire a professional electrician. Electrical repairs are one project in your home that you can't tackle on your own. At Parme Electric, our electricians are all licensed, certified professionals with extensive experience, so we can guarantee quality workmanship at every job we perform.
Our Coraopolis service panel upgrade technicians understand how important your electrical system is to you and your home, and we know that it needs to be completely safe and completely reliable. So we'll do whatever it takes to make sure your panel can handle the amount of electricity your home uses.
We also know that a panel upgrade can take time, and it can be disruptive to your home life. So our professionals will work to get the job done as quickly as possible, but we'll never sacrifice quality work in favor of a speedy job.
---
Recent Panel Upgrade Articles
Top 3 Signs It's Time To Upgrade Your Home's Electrical Panel

There are far too many homeowners out there who don't understand just how important your electrical panel is to the overall function and safety of your home. Most homeowners only pay attention to the […]

Panel Upgrades: A Safe Choice

Electricity puts a house in function. It plays a vital role in serving food, keeping us warm from the weather, aiding us in daily tasks and providing comfort with many variables of entertainment. Wit […] If You're Planning an Electrical Project or Need Help with an Electrical Problem, Please Fill Out our Contact Form or Call Us at 412-329-8853. With Fully Stocked Vans, We're Able to Repair Most Electrical Issue On-Site with the Proper Materials.