Pool & Spa Wiring in Coraopolis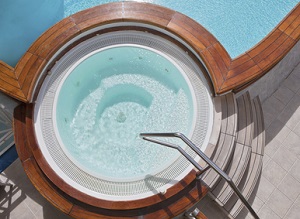 If you're installing a pool, hot tub, or spa in your home, one of the most important parts of the job is making sure that the electrical wiring is installed professionally and that it's totally safe. At Parme Electric, our Coraopolis electricians can provide you with high quality wiring for any pool or spa. We have extensive experience with all kinds of electrical systems, and we'll be able to guarantee thorough and safe repairs and installation of pool and spa wiring in Coraopolis.
Anytime you have water and electricity near each other, there's potential for major safety hazards, so you need to know that any wiring for a pool or spa is done professionally and is totally up to code. It's very important that you hire a qualified electrician who has the knowledge and experience to complete this job thoroughly and safely; otherwise, you may not be able to pass electrical code inspections, and it could cause serious damage to your property. Not to mention, you'll end up spending more for corrective electrical services in Coraopolis.
When you're having a new pool or spa installed in your home, contact our licensed, trained, and extensively experienced electricians.
Swimming Pool Electrical Wiring
To have the electrical wiring for a swimming pool properly installed, you'll need to complete the four following tasks:
Secure the electrical permit
Wire a sub-panel at the equipment pad to power the pool equipment
Bond the metal components of the pool
Pass an electrical inspection
Our electricians will be able to obtain your electrical permit for you before we begin our work, we'll handle every aspect of the installation, and we'll use a third party company to inspect our work and ensure that it's as safe and functional as possible.
Our Coraoplis electricians will be able to guarantee safe, reliable electrical wiring installations for swimming pools and spas.
Electrical Panel Additions
Frequently, when homeowners install a new pool or spa, they find that their electrical panels are already full, which means that they'll be unable to support the addition of extra wiring. If this is the case, our Coraopolis electricians can help in one of two ways:
Install a sub-panel. This will provide more breaker space to accommodate the extra equipment for your pool. In order for this to be a viable option, your home's wiring will to already be able to support the extra load of electrical output as you'll essentially be redistributing the existing electrical service of your home.
Request a service upgrade from your electric company. Service upgrades increase the amount of electricity that the electric company sends to your home. This requires an installation by the electric company, and it normally takes between three and six weeks.
Our professionals will help you decide on which option suits your home best.
Latest Projects If You're Planning an Electrical Project or Need Help with an Electrical Problem, Please Fill Out our Contact Form or Call Us at 412-329-8853. With Fully Stocked Vans, We're Able to Repair Most Electrical Issue On-Site with the Proper Materials.