Parme Electric: Go-To Bucket Truck Services in Coraopolis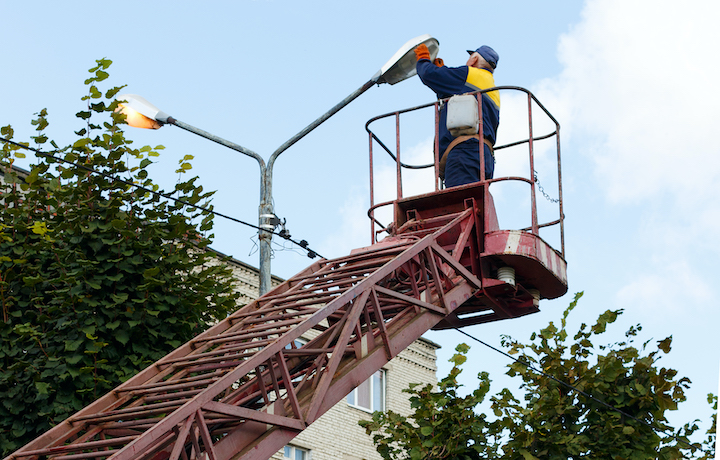 Parme Electric is a full-service electrical contractor that offers a variety of bucket truck services, including parking lot lighting, area lighting, and LED retrofitting. Our team of experienced electricians is highly skilled in working with bucket trucks, and we can safely and efficiently complete any job, regardless of its size or complexity.
Parking Lot Lighting
We offer a complete range of parking lot lighting services, from routine maintenance and repairs to complete system upgrades. We can replace burnt-out lamps, repair or replace faulty fixtures, and upgrade your system to LED lighting. Our goal is to keep your parking lot well-lit and safe for your customers, employees, and visitors.
Area Lighting
We also offer area lighting services for a variety of commercial and industrial properties. We can light up your parking areas, walkways, loading docks, and other outdoor areas to create a safe and secure environment.
LED Retrofitting
LED lighting is a more energy-efficient and cost-effective alternative to traditional lighting. We offer LED retrofitting services for parking lots, area lighting, and other applications. We can help you save money on your energy bills and reduce your environmental impact.
Why Choose Parme Electric for Bucket Truck Services?
We offer a number of advantages over other bucket truck companies, including:
Experienced and skilled electricians: Our team of electricians has years of experience working with bucket trucks, and we are highly skilled in a variety of lighting applications.
Safe and efficient work practices: We take safety very seriously, and we always follow all applicable safety regulations. We also use the latest technology to ensure that our work is done efficiently and effectively.
Competitive pricing: We offer competitive pricing on all of our bucket truck services. We are always happy to provide a free estimate for your project.
If you are looking for reliable and affordable bucket truck services, contact Parme Electric today. Call us at 412-329-8853, we would be happy to discuss your needs and provide you with a free estimate. If You're Planning an Electrical Project or Need Help with an Electrical Problem, Please Fill Out our Contact Form or Call Us at 412-329-8853. With Fully Stocked Vans, We're Able to Repair Most Electrical Issue On-Site with the Proper Materials.