Old House Rewiring in Coraopolis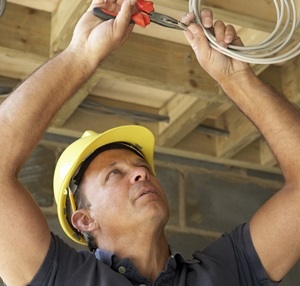 There's no part of your home that's more important than its electrical wiring, and keeping your electrical wiring system in great shape is one of your biggest concerns. If your home has wiring that's old or outdated, it can cause a variety of serious problems with your home's electrical system. Not only will it cause frustrating power losses and problems with circuits, but it can also be very dangerous, and it might even lead to something as terrible as a house fire. You should contact an electrical contractor experienced in old house rewiring in Coraopolis.
At Parme Electric, our Coraopolis electricians can provide you with a thorough inspection of your home's wiring and remove, replace, or repair it as necessary. We have extensive experience working with all kinds of electrical wiring, and we'll always be able to guarantee your complete satisfaction with the work that we perform.
Removal and Replacement of Outdated Wiring
If you live in an older house and haven't replaced the wiring, chances are it needs to be done. Homes built even as recently as the 1980s may not be up to today's modern standards. With so many more devices and appliances being regularly used than ever before, the electrical needs of most homes have grown tremendously even in the last ten years.
Older wiring won't be able to handle the amount of electricity that is used in modern homes, and it can deteriorate until it becomes a problem. You'll start to notice nuisances like blown fuses, or you may encounter dangerous electrical wiring. Plus, if you're considering putting your house on the market, older electrical wiring may not pass inspections.
Warning Signs
If you don't know whether or not you should have the electrical wiring in your home replaced, look out for these warning signs, and call for proper electrical services in Coraopolis ASAP:
If circuits break and fuses blow often, then you should have your wiring inspected.
If you don't have an outlet every six to eight feet in your home, you probably don't have adequate wiring.
Your wiring appears to be cracked, deteriorated, or falling apart.
Your wiring is black. Newer electrical wiring uses PVC materials and is usually white or gray.
Call our electricians will check if the wiring in your home shows signs of being old or outdated, and we'll help you take the next steps to keep your home's wiring safe and functional.
---
Recent Electrical Wiring Articles
3 Holiday Electrical Safety Tips From Our Coraopolis Electricians

While you use your electrical system in your Coraopolis house every day, the holiday season can really put a stress load on it. Your house was wired to provide a certain amount of electrical load, so be careful this year when you start plugging in extension […]

Old House Wiring in Corapolis – What You Need to Know

There is certainly a unique beauty and charm that comes with purchasing an older home, of course with it also comes issues and concerns that are also unique to older homes. One of these concerns is always the electrical wiring system. This is a big concern […] If You're Planning an Electrical Project or Need Help with an Electrical Problem, Please Fill Out our Contact Form or Call Us at 412-329-8853. With Fully Stocked Vans, We're Able to Repair Most Electrical Issue On-Site with the Proper Materials.