Electrical Code Violation Corrections in Coraopolis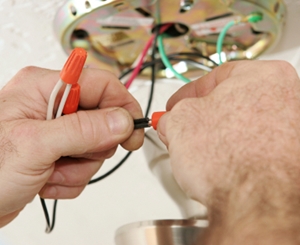 Most property owners aren't concerned about electrical code violations until they are selling their properties. But actually, code violations can be major safety hazards, and they put you at risk of costly damage to your property or serious injury to members of your household. If your property has any electrical code violations, or if you suspect that it may, you should have the problems addressed as soon as possible by a professional electrician. You will need electrical code violation corrections in Coraopolis for safety reasons and before you can move forward with any construction work or property sales.
Problems with electrical codes could develop for any reason. Old equipment, material damage, or even an unskilled electrician doing a poor job could all be reasons that your home or commercial property is in violation. Fortunately, if you need to ensure that your property is in compliance with electrical codes, you can count on the Coraopolis electricians at Parme Electric. Our experts will be able to ensure that your system is in complete compliance with national, local, and regional codes.
No matter what part of your electrical needs to be repaired, we'll be able to handle the job quickly and professionally.
Electrical Code Inspections
If you are unsure of whether or not your property has any electrical code violations, our professionals can provide you with a safety and code inspection. If you're buying or selling a property, a code inspection can make the entire process much easier. Our professional Coraopolis electricians can provide thorough and accurate inspections for your home or commercial property and provide any corrections necessary.
Common Code Compliance Issues Include:
Poor connections
Damaged Cables
Safety Violations
Faulty Electrical Repairs
Incorrectly Sized Wiring
Electrical Hardware Upgrades
Abandoned Electrical Projects
What Is the National Electric Code?
The National Electric Code, or NEC, is a set of safety standards designed to make sure that all electrical installations and repairs are as safe as possible. The code is frequently revised because of new information and new definitions of standards of safety. These changes are essential, especially since technology is rapidly growing and always changing.
It's important that you hire an electrician who keeps up with these changes so that they can always help you keep your property in compliance. Our electricians always remain up-to-date and knowledgeable of the NEC and all of its changes, ensuring we provide the best electrical services in Coraopolis. We can guarantee that any new additions or changes to the code will be implemented at the time of our service.
---
Recent Code Violation Articles
4 Common Electrical Code Violations

Electrical wiring is a serious issue because if electrical codes are not met, serious hazards can occur. If you need code violations corrected in your Findlay home, hire a trusted electrician to perf […] If You're Planning an Electrical Project or Need Help with an Electrical Problem, Please Fill Out our Contact Form or Call Us at 412-329-8853. With Fully Stocked Vans, We're Able to Repair Most Electrical Issue On-Site with the Proper Materials.