The Advantages of Artful Landscape Lighting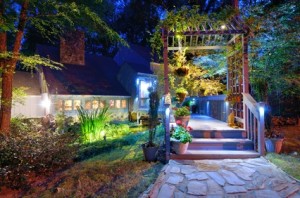 Many Coraopolis homeowners make the decision to install landscape lighting on their property. But what are the actual benefits of landscape lighting? This inexpensive design choice confers both functional and aesthetic benefits to your home. Not only can your yard look beautiful when it's lit up at night, the new lighting makes it more accessible and secure after sunset.
Landscape lighting can help you expand your nocturnal living space. Bringing some light into your garden, yard, or patio area makes it far more inviting after the sun goes down. The dark edges of your property can be downright ominous at night, but with landscape lighting, they can suddenly become a fun place to hang out or host a barbecue.
Lighting will enhance your home's appearance. Adequate nighttime illumination will make your beautiful landscaping visible at all hours, complementing it with the soft glow of electric lighting. The placement of lighting fixtures will also serve to enhance and highlight areas of your yard, like gardens or fountains.
Being outside is safer with landscape lighting. It makes it easier to see potential hazards like drop-offs, stairs, and other places where it's easy to trip and fall in the dark.
Go for an invigorating night swim in your backyard pool. Swimming is safer and more relaxing when you can see what you're doing.
A well-lit home has greater curb appeal. When the time comes to put your house on the market, artful outdoor lighting can make it look more appealing and inviting for potential buyers. Landscape lighting could actually turn out to be an investment that makes your Coraopolis home sell for a higher price.
It's surprisingly economical. Low-voltage outdoor lighting doesn't use all that much electricity, and is often relatively inexpensive to install.
It can keep your home and property more secure. A well-lit yard and perimeter is a deterrent to potential thieves and home invaders.
Landscape lighting can be a great investment for your Coraopolis home. Not only does it make it easier to enjoy your garden, patio, or pool at night, but it adds an extra security measure. It can even help to enhance your property value, making your yard look more appealing at night. For all your landscape lighting needs, Parme Electric is the area's leader in affordable, energy-efficient outdoor lighting installation. Call today to find out more about how you could light up your landscape. If You're Planning an Electrical Project or Need Help with an Electrical Problem, Please Fill Out our Contact Form or Call Us at 412-329-8853. With Fully Stocked Vans, We're Able to Repair Most Electrical Issue On-Site with the Proper Materials.