Pool & Backyard Lighting Trends – Discovering Exciting New Options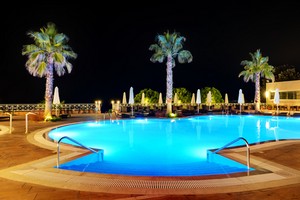 One of the biggest joys of summer is being able to spend more time in the great outdoors, namely your own Coraopolis backyard. Take a seat and enjoy the sunset, host a party, splash around in the pool. Yet, as the sun sets, it is a reminder that you are still lacking in lighting – but all that is about to change.
While it may be time to close the pool for this season, that still makes it the perfect time to start thinking about making changes before the next spring arrives. This is the ideal time of year to hand over your outdoor space to the electrical professionals who can work on it, now that it is no longer being used on a daily basis. In other words, start getting motivated by lighting trends for your pool and outdoor living space, so they can be implemented before warm weather returns.
Bringing Things to Light
Now your pool really can make a splash and your backyard can set the mood, it all boils down to the type of lighting you have. These are some lighting trends to consider, but merely an example because there are plenty more where that came from:
Floating Lights – Like lotus flowers on the surface of a pond, imagine soft but functional lights that float in your pool. Many homeowners are excited about this because of the ambiance it creates. You will enjoy a luxurious setting and can add as many lights as you want, in whatever style or colors you desire.
Using LED – LED may not be anything new, but it's the steady popularity that has made it a style of lighting that gets implemented into every possible setting. So, it only makes sense that it finally made the transition to pool lighting, and will likely remain a commonly used staple.
Fads come and go, but trends usually are what stick around to stay and become the new norm. LED lighting for the pool is a favorite due to available color variations, their ability to offer soft yet efficient lighting, and their energy-efficiency.
Overhead Lighting – As outdoor living spaces became such a phenomenon, designers started seeking other ways to incorporate other traditional interior design elements into the outdoors. While overhead lights are common inside the home, they have now finally made their way outside. Its akin to sitting in your backyard with the illumination of the sun overhead, without the bright, harsh glare.
Let the Experts Offer Some Advice
The smart approach to take is to get feedback from industry pros. Who better to consult with than the team here at Parme Electric. We can offer expert advice, as well as masterful installation and service of your outdoor and pool or spa lighting.
Now is the perfect time to start planning for your outdoor soirees nest spring and summer, even though it may not feel like it. Let us work on your backyard and pool while you are not using them, anyway. We can guarantee that you will love the final results we provide you with. If You're Planning an Electrical Project or Need Help with an Electrical Problem, Please Fill Out our Contact Form or Call Us at 412-329-8853. With Fully Stocked Vans, We're Able to Repair Most Electrical Issue On-Site with the Proper Materials.